"The name myWorld Real Estate tells us nothing at all "and" …we only heard of a groundbreak through the request of the local press, " stated the building contractor. Neither does the architect's office know a company "myWorld Real Estate" nor does the building contractor. Of an alleged long-term letting at REGUS do both know nothing.
On the 5th of October 2020 the pyramid scheme operator Hubert Freidl and his followers of "Black Diamond" tried to sell using a "fake official ground-breaking ceremony" for the real estate project "Chicago Lane", so that his "German boar troops" could go and collect money again.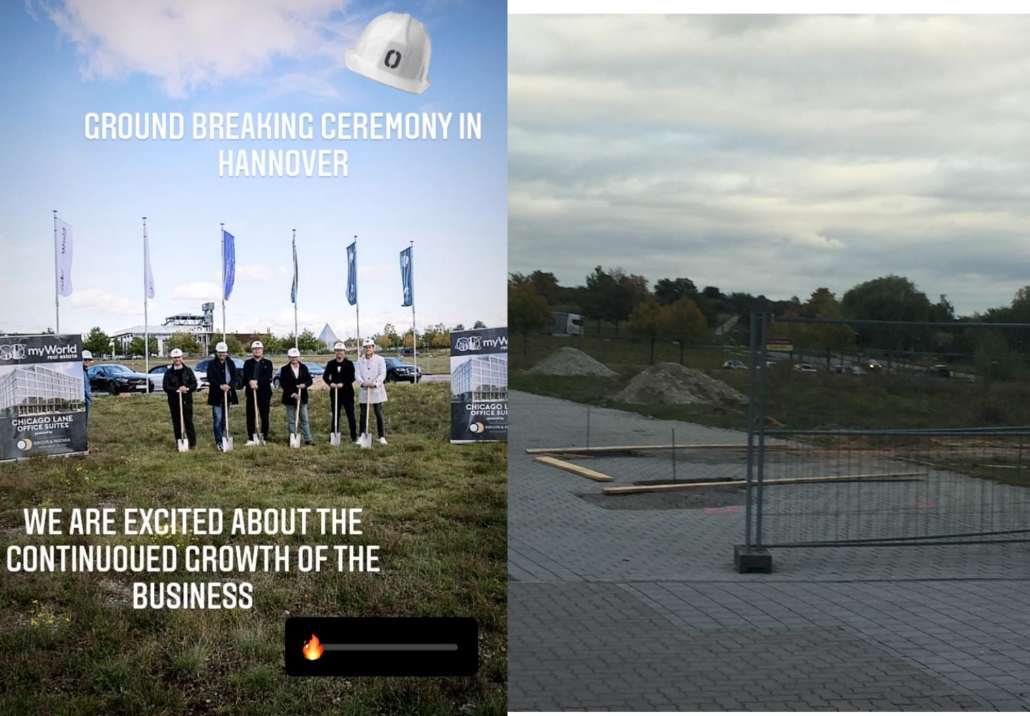 Immediately after the cabaret performance, the flags and poles were taken down and the haunting was over.
Now there is also still the Website https://www.myworld.realestate/, exclusively written in English and in the same Design as those of Riegler & partner. With this, the foreign "EC X-owners" should be calmed down. The completion date will be the II. quarter of 2021, however this is supposed to go.

It may be that there will be a construction on the property, so why does the construction company not confirm the English 1 GBP company "myWorld Real Estate Ltd." as the building contractor, when the flags have already been erected for a few days. For which reason is Herbert Riegler of Riegler & partner ,who is the the building contractor cannot be reached by telephone, though he would have to be right at the forefront of such a building project and would like to speak to the media.
"MyWorld" officially makes the with real estate project the large wave in its social media, but on the spot they hide themselves. How does that fit together?    
/wp-content/uploads/2015/11/logo-konfliktmanagement.jpg
0
0
Ben Ecker
/wp-content/uploads/2015/11/logo-konfliktmanagement.jpg
Ben Ecker
2020-10-07 21:07:48
2020-10-07 21:07:48
"Chicago Lane"/EC X property: "Groundbreaking" just for show! Building contractors and architects do not know myWorld!