After its prohibition in Norway and Italy as well as the final convictions as a snowball system (Ponzi scheme) in Austria and Switzerland, Lyoness is planning its entry into other countries. Amongst them are Malaysia, Taiwan, Singapore, Japan, Argentina, Columbia, Egypt and even African countries..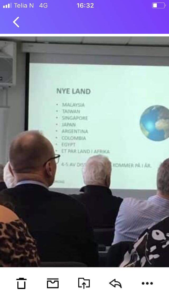 Presentation during an event in January
It may not be assumed that there will be an extensive legal check in the several countries, thus already in the times of country packages Lyoness invaded countries like Brazil, India or the USA in a "blitzkrieg manner". Oh, how did they praise India for being a "billion-dollar market". They said things like "business will go up through the roof" and "there is only a limited volume available and people have to seize the opportunity". After seven years, Lyoness's trading net is still ridiculously thin and its press department remains silent when being asked about their forecast back then.
Japan is known for its strict legal interpretation concerning competition questions and will surely have a lot of fun with Lyoness/Lyconet, myWorld etc. The answer to my request to the Japan Fair Trade Commission is still pending.
/wp-content/uploads/2015/11/logo-konfliktmanagement.jpg
0
0
Dolphin Media Production
/wp-content/uploads/2015/11/logo-konfliktmanagement.jpg
Dolphin Media Production
2019-03-03 11:36:59
2019-03-03 11:36:59
Lyoness and its new countries!