The REWE Group is an internationally active company group based in Cologne dating back to the year 1927. The group's sales lines include Billa, Penny, REWE and TOOM as well as DER Touristik Germany and ITS Reisen travel agents. Turnover from the entire REWE Group amounted to €54.14 billion in the 2016 fiscal year.
Seeing these illustrious and famous names listed as so-called business and collaboration partners with Lyoness (Cashback World) doesn't ring true for any actual business partnership.
This harks back to the MasterCard ruse exposed in July 2016, where an ominous MASTERCARD credit card provider was sent a cease and desist order while Lyoness assumed the role of a hapless victim. In reality, Lyoness had previously established this credit card provider in Gibraltar through former employees.
There may well be small businesses and microenterprises that actually do have partnerships full of hopes and expectations with Lyoness. However, the REWE Group neither maintains nor aspires to any such connection with Lyoness or Cashback World, let alone a listing on their website.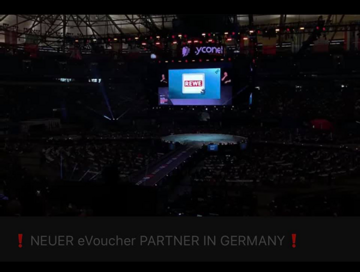 Even so, REWE was proudly announced as a NEW eVoucher partner at the elite seminar in Veltins Arena, Gelsenkirchen, in early June 2019 with eulogies posted on Facebook. Complete rubbish!!!
I enquired at the REWE Group headquarters in Cologne. The Communications and Press Relations Department of both REWE and PENNY informed me in writing as follows (e-mail on file):
"Dear Mr. Ecker.
Many thanks for your inquiry, which we would like to respond to as follows: REWE does not maintain any commercial relationship let alone any partnership with the above company. In this respect, we expressly reserve the option to take further steps against the company in question.   
Yours sincerely,
REWE Markt GmbH, National Administration Department
Head of Corporate Communications"
A PENNY press officer summed it up very succinctly:
"Dear Mr. Ecker,
I'll keep this brief: PENNY has terminated the sales partner-based business model with Lyoness.
Yours sincerely,
PENNY Press Officer"
PENNY has already been removed from the Cashback World site; how long REWE will be listed there remains to be seen.
One may well speculate as to how various affiliate partners are earning their keep in top management at Lyoness. These continuous denials from reputable companies are a clear indication of how low and insignificant the shopping turnover at Lyoness (Cashback World) must be. If this shopping turnover were in fact as massive as they claim at Cashback World, large high-turnover companies and corporations would definitely be willing to let Lyoness (Cashback World) list them. Entrie
/wp-content/uploads/2015/11/logo-konfliktmanagement.jpg
0
0
Dolphin Media Production
/wp-content/uploads/2015/11/logo-konfliktmanagement.jpg
Dolphin Media Production
2019-06-28 15:28:34
2019-06-28 15:28:36
REWE & PENNY deny partnership or collaboration with myWorld/Lyoness/Lyconet