More than 40,000 visitors at dubious seminar in Veltins Arena!
Gelsenkirchen, Germany. 40,000 people from all over Europe visited Schalke Arena at the weekend. The seminar's organiser is controversial and partly prohibited.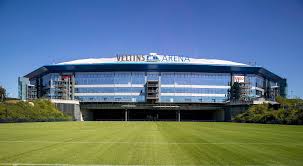 Whoever walked along the Veltins Arena last weekend could not overlook them: thousands of cars from all over Europe were not just standing in the regular car parks but also in side streets. Since neither the football club Schalke 04 had a game nor a famous band played a concert, everybody was wondering what was going on.
On the arena you could read "Elite Seminar". It was a three-day event of the company "Lyconet" that took place from Thursday to Saturday. More than 40,000 people had come there – among them many people from the Baltic states, Poland, Spain and Italy. They all were dressed very elegantly. "It had the taste of a cult", Reinhard Jäger, who lives near the arena, described his impression of the event. Party sounds and loud basses coming from the arena at least made him doubt the name "Elite Seminar". "They were really going down there", so the 73-year-old.
Accusation of a snowball system
"Lyconet" is anything but undisputed. The company belongs to the "Lyoness AG" that was founded by the Austrian Hubert Freidl and has its registered office in Switzerland. The company describes itself as "one of the biggest purchasing groups worldwide". With a so-called "Cashback Card", Lyconet promises discounts on many products. But the large companies, they are regularly claiming to be their partners, actually often do not accept this card. The acquisition of the card though, already costs 2,000 EUR.
In Norway, on the contrary, the company has been completely prohibited by the Norwegian Lotteries and Gaming Authority. In Austria and Switzerland, several courts have classified "Lyoness" as a snowball system. This means, it is a business model in which the participants shall recruit new members themselves, but in the end, only high-level members can make money from it.
The numerous visitors of the Veltins Arena also had problems with finding a parking space. Many of them had parked their cars regularly on Eschfeld Street and "nevertheless became a ticket", as the local resident Wolfgang Krug reported surprised.
We are leasing Veltins Arena for a wide range of events – sport events, congresses, fairs and corporate events. Of course, we are informed about the fundamental contents of externally leased events and we discuss them if necessary", the speaker of Schalke, Anja Kleine-Wilde, answered upon request. The guideline here was the mission statement of Schalke: "No discrimination and no violence".
World star Pitbull was a guest
An entrance ticket to the "Elite Seminar" is said to have cost at least 199 EUR. Over the three days, especially motivating gurus like bestseller author Tony Robbins performed on the stage. Also, the American rapper Pitbull was a guest speaker. On Tuesday, nobody working at Lyconet was accessible for a statement.
/wp-content/uploads/2015/11/logo-konfliktmanagement.jpg
0
0
Dolphin Media Production
/wp-content/uploads/2015/11/logo-konfliktmanagement.jpg
Dolphin Media Production
2019-06-13 17:50:08
2019-06-13 17:50:10
More than 40,000 visitors at dubious seminar in Veltins Arena!