At the time of the miserably low allocation of S-E2CC in June 2020, we were informed about the completed proceedings from Turkey, which had been going on for years. The incidents and convictions of Lyoness in Turkey are quite a challenge, however, due to the language barrier, the events have probably become less known elsewhere. This is something we are now changing.
In the meantime, we have more than 300 pages of documents from Turkish government agencies, which we will publish soon in an explanatory and translated form.
Already since the time of the country packages, Lyoness has transferred all sales made in Turkey untaxed directly to accounts throughout Europe (Switzerland, Germany, Great Britain, or UK Iceland bank accounts) or third-party accounts to avoid taxes. As can be seen from the investigation files of the Turkish tax authorities, an amount of 70,355,352.55 TL, converted to 16,915,399.49 Euro, was deliberately transferred untaxed from Turkey to Switzerland alone.
Lyoness is proven to be prohibited in Turkey. We also know that Lyoness/Lyconet marketers and myWorld itself do not really care much about state orders nor do they even let themselves be deterred from activities (as in Norway). By controls of the authorities in Turkey, they determined that even forbidden seminars were held. In these seminars, the pyramid scheme was further distributed and participants were asked to make new potential members aware of this "life-changing and safest business in the world". In return, the participants were promised to receive an even higher commission.
Hereafter is a decree dated on the 18th of October in the year 2018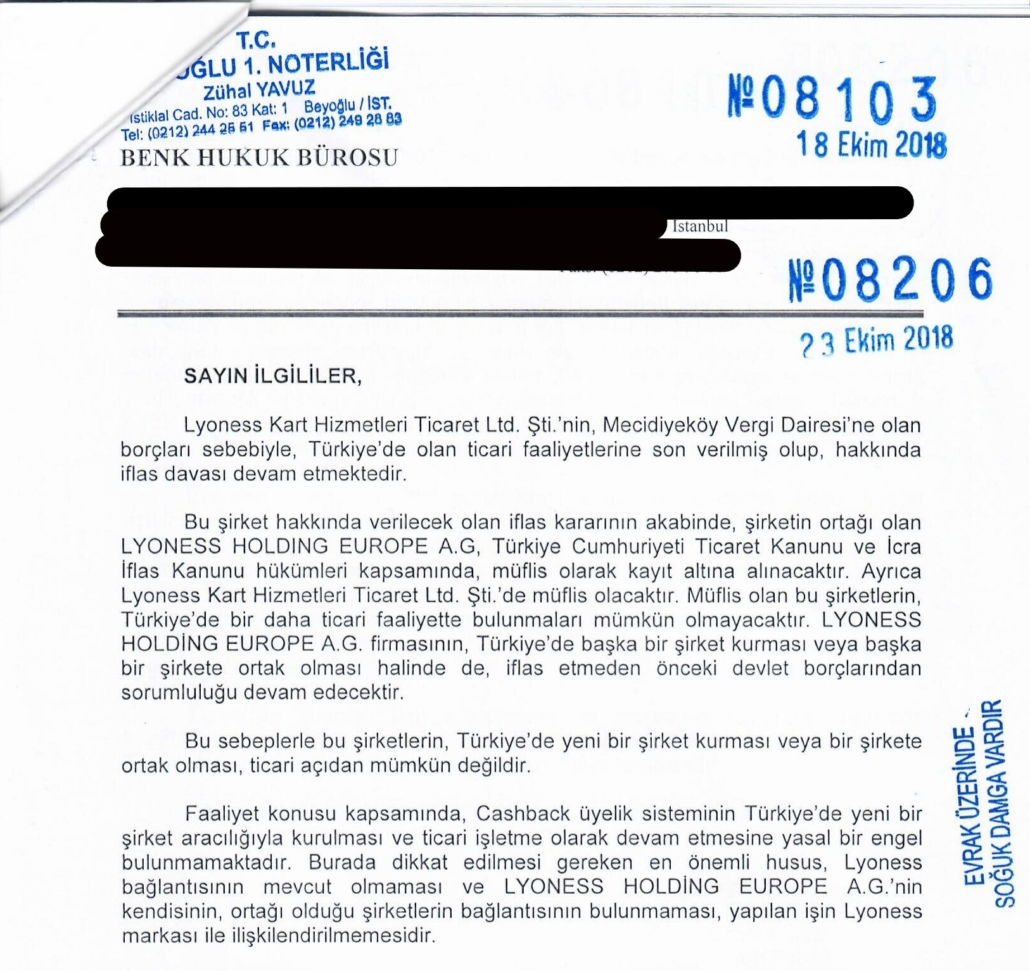 Translation of the upper decision:
"To the responsible authority
The business operations of Lyoness Kart Hizmetleri Ticaret Ltd. Şti. have been terminated due to tax debts to the tax office in Mecidiyeköy and bankruptcy proceedings are currently continuing.
After the bankruptcy decision concerning this company, LYONESS HOLDING EUROPE Ltd. will be registered as bankrupt according to the Trade, Enforcement and Competition Law of the Turkish Republic. Furthermore, Lyoness Kart Hizmetleri Ticaret Ltd. Şti. will be registered as bankrupt. It will not be possible for these bankrupt companies to resume trading activities in Turkey. If LYONESS HOLDING EUROPE AG. founds another company in Turkey or becomes a partner in another company, its liability for the public debt before bankruptcy will continue.
For these reasons, it is not commercially possible for these companies to establish companies in Turkey or become shareholders in other companies."
In a further decree of the Istanbul Commercial Court of 17.01.2019 (excerpt see below), it is stated that the bankruptcy of Lyoness will be announced and the control of the company will be officially transferred to an Istanbul bankruptcy administrator with immediate effect.
After being charged with commercial tax evasion by the Turkish state, the lawyer of Lyoness founded a dummy company of Lyoness Europe AG in Turkey and declared that the transferred funds to the companies in Europe did not belong to the company and requested that the foreclosures and penalties be lifted. The Turkish government authorities did not follow this request. After several objections, according to our information so far, this decree is legally binding since March 2020. We will shortly publish this decision in a fully certified translation.
Extract from the DECREE (Page 9 of 11) dated on the 17. January. 2019
"With the open negotiation about the insolvency proceedings before our court, the following was RECOGNISED AND DECIDED FOR RIGHT: The following is summarized in the statement of claim by the plaintiff's attorney: The client Lynoss Kart Hizmetleri Tic. Ltd. Şti. is registered in the Directorate of the Istanbul Commercial Register under the registration number 707436. ………. As a result of the client's transactions, high amounts of taxes became due for her, and tax penalties were imposed on her……………… To collect the public debts that became due, seizure proceedings were initiated and the Ltd. was no longer able to continue its trading activities. As a result, the authorized representatives of the client, the LLC, have had a valuation carried out by a tax advisor to assess the financial situation of the LLC per Article 179 of the Law on the Enforcement and Insolvency of Companies, based on financial data, which established that the assets of the LLC amounted to TL 1,935,471.49.49 (as of 19.01.2019, € 309,675.43) and the total liabilities to TL 94,620,938.59 (as of 19.01.2019, € 16,139,350.35). This shows that the liabilities of the LLC exceed the assets by 92,685,467.10 TL (as of 19.01.2019, 15,829,674.09 €) and that it is bankrupt. 4. COMMERCIAL COURT ISTANBUL."
What Hubert Freidl and Marco Sedovnik arranged with the former MD (Managing Director) to blame everything on him, will be published with further publications, as well as witness statements, indictments, and personal interviews on-site. To be continued…………………………
/wp-content/uploads/2015/11/logo-konfliktmanagement.jpg
0
0
Dolphin Media Production
/wp-content/uploads/2015/11/logo-konfliktmanagement.jpg
Dolphin Media Production
2020-11-21 20:43:26
2020-11-23 09:58:40
TURKEY – Lyoness as a pyramid scheme prohibited by the court! Dummy company busted / Lyoness Kart Hizmetleri Ltd. Sti. under bankruptcy administration/tax debts worth millions / penal proceedings for tax evasion and deliberate bankruptcy.