Freidl's IPO! myWorld leaders like Andreas Matuska, Mario Oreggia, Thomas Knittl, Giuliano, Louis Louw lure members/marketers into the "flotation trap" with supposed gifts?
Our "BCR howler monkey" Andreas Matuska once again invokes the good life in his video (3:05) of January 13, 2020, and refers to "gifts to all members." The other leaders make comparable moves in their group chats.
First of all, it should be clear to any reasonably normal person that no one, and certainly not a Hubert Freidl, has anything to give away. There is no longer a word to be said about the pathetic allocations/payouts of the various clouds in the past. For years Hubert Freidl lures the members via its leader and the promise on a "passive income" to make continuously new money transfers, although one does not want to know anything about the previous promises anymore. On the contrary! As if all this did not play a role, the next "dream castle" is already offered to the members, everything is even better, larger or to say it in the words of A. Matuska "sicker".
In addition to videos and chats, members are also contacted by mail, as…….
"I just noticed that you were interested back then.
To cut a long story short, the company is floating on the stock market and you'll get shares with an approximate equivalent value of € XXXXXXX as a gift! – Cloud bookings are even counted twice!
You don't have to pay anything for this, we just have to adjust a few things in your back office, otherwise, you won't get them allocated as of February."
The members/marketers and those who want to become one should ask themselves what the "gift" is all about.
It's obvious!
The trick is to advertise this supposed "share" as free addition, thus no member/marketer has a legal claim to dividends from the share with the conversion of the account, and of course all previous payments will also expire. Then it no longer matters whether myworld goes to any stock exchange via any third party companies or not.
Louis Louw from South Africa seems to know more. He contacted his downline and published the following on 12. January 2021 via Vimeo, among others: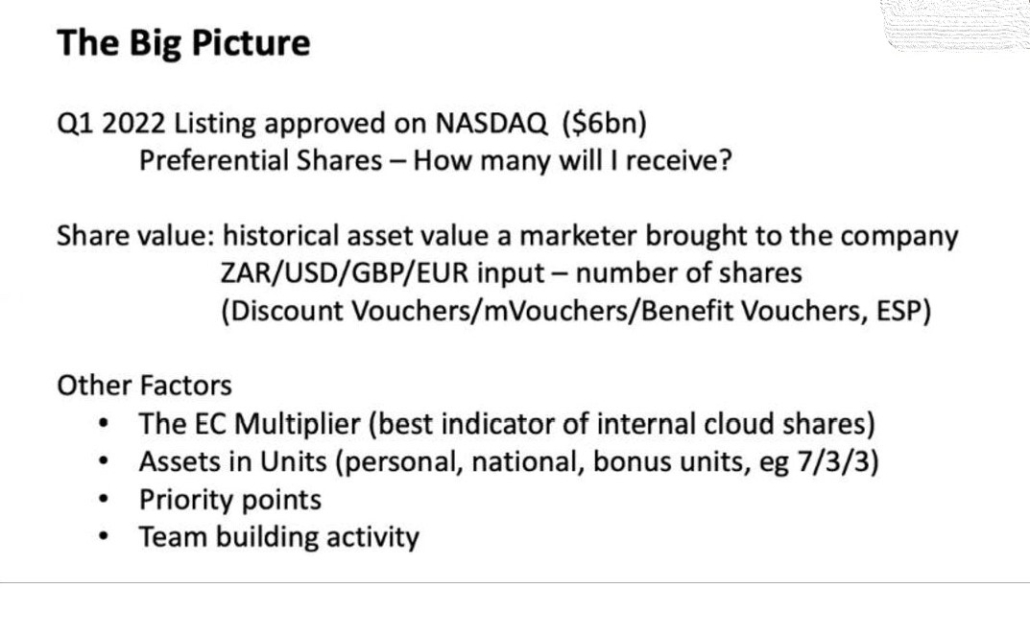 The SEC (Securities and Exchange Commission) in the U.S. specifically warns against such pre-IPO trades on its website. see also: SEC.gov | Risky Business: "Pre-IPO" Investing
"Risky business: "pre-IPO" investments!
A "pre-IPO" is about acquiring a stake in a company before the company conducts its IPO. Many companies and stock promoters lure investors with the promise of high returns………………………………….
……………But investing in the pre-IPO phase can pose a significant risk to investors………..
Consider the following:
Before you even think about investing in a pre-IPO offering, do your homework. At the very least, you should know this:
Remember, the people and companies promoting fraudulent pre-IPO offerings often use impressive-looking websites ……….
To lure you in, they make unfounded comparisons between their company and other established successful Internet companies. But these and other claims that sound so believable at first glance often turn out to be false or misleading.
Always be skeptical when considering any offer that you hear about on the Internet.
Any company that wants to offer or sell securities to the public must either register the transaction with the SEC or meet an exemption. Otherwise, the offering is illegal, and you can lose every penny you invest. Among the most common exceptions are those in Regulation D of the Securities Act. To meet these exceptions, the company and its promoters generally cannot advertise the offering or target the general public.
You are buying unregistered securities – This means that if you want to liquidate the company before it goes public, it may be extremely difficult for you to sell your securities. Besides, it may be difficult for you to obtain current and reliable information about the company. Also, when you buy or acquire restricted securities, you cannot sell those securities for at least one year – even if the company goes public in the meantime.
The company may never go public – In a growing number of cases, scammers have focused on the predicted value and immediacy of a purported IPO to lure – and pressure – investors. But don't be fooled by such false promises………… In any case, the fact remains that the company may never go public. And if it does, you may never get your investment back.
Details about the offering – Is the securities offering subject to an exemption? Remember that if it is not registered or exempt, it is illegal. Check with the securities regulator to see if they have information about the company, the offering, and the people promoting the business. You can also check the SEC's Public Reference Room to see if the company has filed a Regulation A offering memorandum or a Regulation D Form D. If you ultimately decide to invest, find out if your shares are restricted in any way. Also, ask how you can liquidate your investment if the company does not go public.
Information about the company – What are the products and services? Who are its customers? Does it have the physical assets, contracts, or inventory it claims to have? Are audited financial reports available? If so, ask for copies and review them carefully. We have seen over the years that the most successful scams usually start with plausible lies. That's why you should always independently verify claims about a company you intend to invest in.
Management background – Who is running the company? Have they made money for investors in the past?
The presence and identity of the underwriter – Did the company hire an investment bank to underwrite the offering? If so, which firm? Contact your state securities regulator to find out if the firm has a history of complaints or fraud.
/wp-content/uploads/2015/11/logo-konfliktmanagement.jpg
0
0
Redaktion Blog
/wp-content/uploads/2015/11/logo-konfliktmanagement.jpg
Redaktion Blog
2021-01-24 20:22:18
2021-04-27 18:02:53
Freidl's IPO! myWorld leaders like Andreas Matuska, Mario Oreggia, Thomas Knittl, Giuliano, Louis Louw lure members/marketers into the "flotation trap" with supposed gifts?