A year has now passed since our report "Are the top marketers leaving the bubble?" was published. As BEKM reported, at that time Lyconet Level 8 members Andreas Matuska, Giuliano Esposito and Ferhat Güngor left the Lyconet sales network, which had been classified as a pyramid scheme, condemned and banned in several EU countries.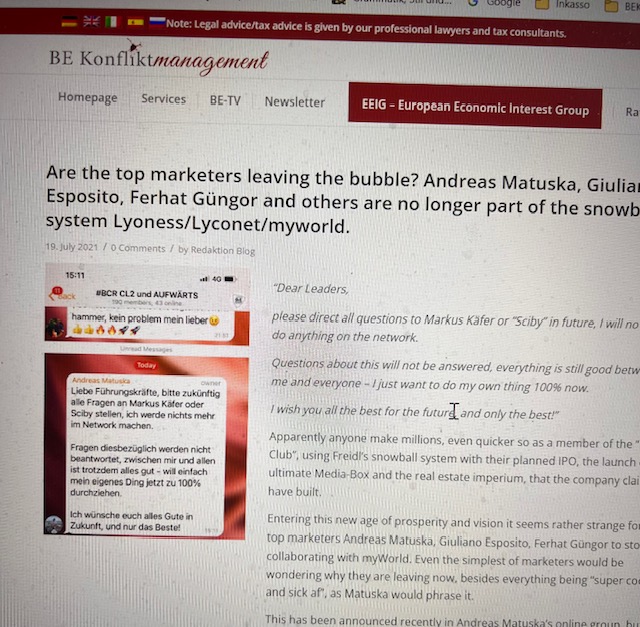 Now Mario Kapun also throws in the towel as CEO. According to him, he had worked as CEO of Lyconet since 2018 and is still registered at Lyconet Global AG as president of the board of directors and, together with Marko Sedovnik, as authorised signatory (Prokurist).
In a video in which he appears together with Lyoness/Lyconet founder Hubert Freidl, he says goodbye to the team. Allegedly, Hubert Freidl is to take the reins at Lyconet Global AG again. Freidl speaks in the video in improvable English about being able to understand Kapun's decision, about the fact that he will still be seeing him often in the future and that Kapun will continue to be involved in one way or another.
According to inside information from Graz that was leaked to us, Mario Kapun is not to turn his back on Lyconet completely, but to act in a different manner and somewhat more in the background. His withdrawal as CEO was officially due to the fact that he was moving to another country.
Does this result in the return of Hubert Freidl, who had emigrated to Monaco and had been rather reticent about positions of responsibility in recent years? Is Hubert Freidl returning to his old greatness in sales, where he motivated his team (according to former WKStA investigation files) with slogans such as "Gemma Deppen einsammeln" (Slang for "Should we go collect some idiots?")? There seems to be a lot of rustling in the Lyconet forest once again. Any future developments in the coming weeks and months remain to be seen.
/wp-content/uploads/2015/11/logo-konfliktmanagement.jpg
0
0
Dolphin Media Production
/wp-content/uploads/2015/11/logo-konfliktmanagement.jpg
Dolphin Media Production
2022-07-22 15:05:48
2022-07-22 15:09:37
Mario Kapun bids farewell as CEO. New wave of resignations at Lyconet?