ECR AG i.L. (we are currently reporting, Financial Market Authority (FMA) Liechtenstein officially warns against "eCredits"! – BE KONFLIKTMANAGEMENT (bekm.us) failed "eCredits" at the FMA Liechtenstein. On June 18, 2021, the FMA Liechtenstein officially warned on their website against "eCredits".
On July 5, 2021 FINTECH LAUNCHPAD LIMITED (Registered office address: 8th Floor, 20 Farringdon Street London, United Kingdom EC4A 4AB) with a share capital of 100 GBP was registered under the company number 13492201 and can also be found on the website of "eCredits" as an operator. As can be seen from the registration certificate, the company was registered with the TMF Group, an office center.
There is not even a partnership agreement for FINTECH LAUNCHPAD LIMITED. A "Model articles adopted" was specified during registration. This is a simple nameless model agreement.
"eCredits" does not want to be officially associated with the myWorld group, but connoisseurs of the matter know about the actual internal circumstances and the proximity to the self-proclaimed visionary and Hubert Freidl. The indirect connection with the myWorld group is beyond question.
It was to be expected that "eCredits" would try to do business outside the EU, as it has failed miserably to gain approval from the EU's financial market regulators.
Whether with the "official founder" of FINTECH L. Ltd., Mr. attorney Dr. Thomas Ruhm (partner attorney with SCWP Schindelhelm) from Vienna, a new player of the playing field of "Freidl's pyramid- and ponzi scheme branch" is, remains to be seen. We will ask and report if necessary. No law firm with basic legal ethical principles and/or a lawyer of clear mind would allow itself to be associated with a company that is directly or indirectly connected with the myWorld Group or Hubert Freidl, let alone represent it.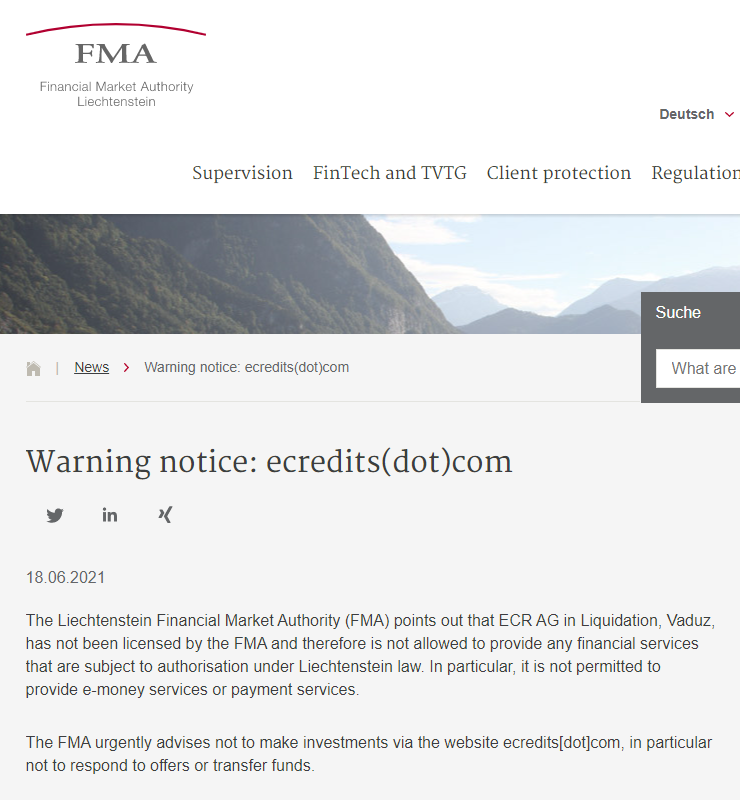 From the environment of the previous general counsel attorney Dr. Hubert Reif of Lyoness/ Lyconet/ myWorld/ we were informed that he wants to withdraw slowly from "his business with myWorld and Hubert Freidl" at the end of the year 2021. Let's wait and see.
What will now be revealed on 24 Juli 2021 to the "eCredits", it will probably not be a licensing at the Financial Conduct Authority (FCA) and Prudential Regulation Authority (PRA). We have already contacted the London authorities by phone and in written form and will of course publish the response immediately as soon as it can be documented.
And as always, the Lyoness/Lyconet/myWorld press office is welcome to comment, or if anyone has more or different information on this, please feel free to let us know. We are not interested in making false statements and our primary goal remains to provide the full documentation.
/wp-content/uploads/2015/11/logo-konfliktmanagement.jpg
0
0
Redaktion Blog
/wp-content/uploads/2015/11/logo-konfliktmanagement.jpg
Redaktion Blog
2021-07-10 15:06:52
2021-07-10 15:08:06
"eCredits": Failure with ECR AG at the FMA Liechtenstein! FINTECH LAUNCHPAD LIMITED is now attempting it in London?