The two accomplices Jef Rowlison and Chris Thomson have once again revealed their ridiculousness with their statement of 21 November 2019.
If you both had character, a sense of responsibility, and the ability to be a reputable business executive, you would not block all BECM Inc. mail addresses, which resembles an admission of guilt. Or do you want to play hide and seek? You would want to find a solution for the benefit of your customers instead of behaving like stubborn children whose lollipops have been taken away.
For this reason, in the name of and on behalf of BECM Inc., I turn to you two Lyoness clowns with an "Open Letter".
The assertion made that Craig Wotton was sacked from the position of Managing Director of Lyoness Australia Pt Ltd is also false, Mr Wotton was responsible for the launch of Lyoness in Australia and was not only the first Managing Director but also the first member of the scheme.
Mr Wotton's launch was extremely successful and resulted in over 100,000 members joining Lyoness in Australia.
When it came to Mr Wotton's attention that members of the board had met over Lyoness being taken to court in Austria on criminal grounds of "Make Public Offer Without Financial Prospectus" which was in direct connection to advertising campaigns similarly to the proposition being offered to Australian members and that a long list of regulators were investigating Lyoness across Europe Mr. Wotton resigned from the position of Managing Director of Lyoness Australia Pty Ltd. to protect his credibility as he realised that he could no longer trust other members of the board.
That you, Chris Thomson, in your recent position as a delegate of the Swiss Lyoness Europe AG, are writing when it comes to members from Australia, USA, Canada, South Africa and Asia, is already very telling.
One obviously does not dare to write to us from the operational headquarters in Austria, as BECM Inc. would immediately have a plea.
First of all, it is stated that the members are represented by BECM Inc with a written proxy. Before using the services of BECM Inc., the members repeatedly had tried withdrawing their money from the Lyoness Ponzi scheme. The worldwide subsidiaries always react the same way to requests from members. Either they do not respond at all or with a standardized two-page letter in which refunds with reference to countless changed terms and conditions are categorically rejected.
No one at Lyoness is seriously caring about the problems of members. With pithy "slogans of persistence" money is being pressed from the members and whoever refuses to pay, is dropped or his/her member accounts are blocked. This practice is handled equally in Australia and Germany.
The testimonials on the website at http://www.bekm.us/rating/ are all correct, these members were paid by BECM Inc. Chris Thomson and Jef Rowlison do know that, otherwise these gentlemen would have filed a lawsuit. The only thing these two supporters of a Ponzi scheme can do is promulgate some unverified half-knowledge, with the goal of defaming BECM Inc. and my person.
They claim that BECM Inc. would work with fictitious claims. That's wrong! It would be easy to prove by naming only one person from the testimonials who was not a Lyoness member and did not demand a repayment of the money deposited with Lyoness. You cannot do that, and you know it.
I should have committed a similar fraud in Germany? What is correct is that: I have reported the pyramid scheme Lyoness to the public prosecutor's office in Cologne, naming hundreds of German Lyoness victims. See also: http://www.bekm.us/public-prosecution-cologne-file-nr-115-js-424-19-starts-again-with-preliminary-proceedings-against-managing-director-of-lyoness -Germany-gmbh-guido van ruth/
You further claim that I was sentenced to pay € 2,917.38 to Lyoness. What is correct is that: With a "legal sleight of hand" Lyoness has obtained a default judgment in an Austrian court. This verdict has been suspended in the meantime under Az. C 1010/18f-29 and Lyoness has to refund me the sum. This sentence is currently being enforced by me against Lyoness in Austria! You should get better informed by the Austrian Lyoness headquarters and their lawyers!
Your constant demands for paid-out members to prove that their money has been disbursed is a sign of your panic. Just to make things clear: to name your Swiss marketer Ede Buser as a reference only proves your incompetence, your incompetence and your desperation.
As Lyoness lawyers themselves will confirm, my action was dismissed solely on the basis of jurisdiction. That Ede Buser was right with his allegations was not established. He should translate the decision! Here, another complaint has already been filed by me. See also: http://www.bekm.us/lyoness-lawsuit-against-ben-ecker-with-partial-judgment-of-the-bg-vienna-from-06-11-2019-dismissed/ )
Currently, it is more like you two prodigies and the spelling artist Ede Buser are so desperate that you are competing to see who is lying best.
BECM Inc. will continue to pay out to Lyoness victims and this is all that counts.
Finally, the letter I wrote to you both on 23 November 2019: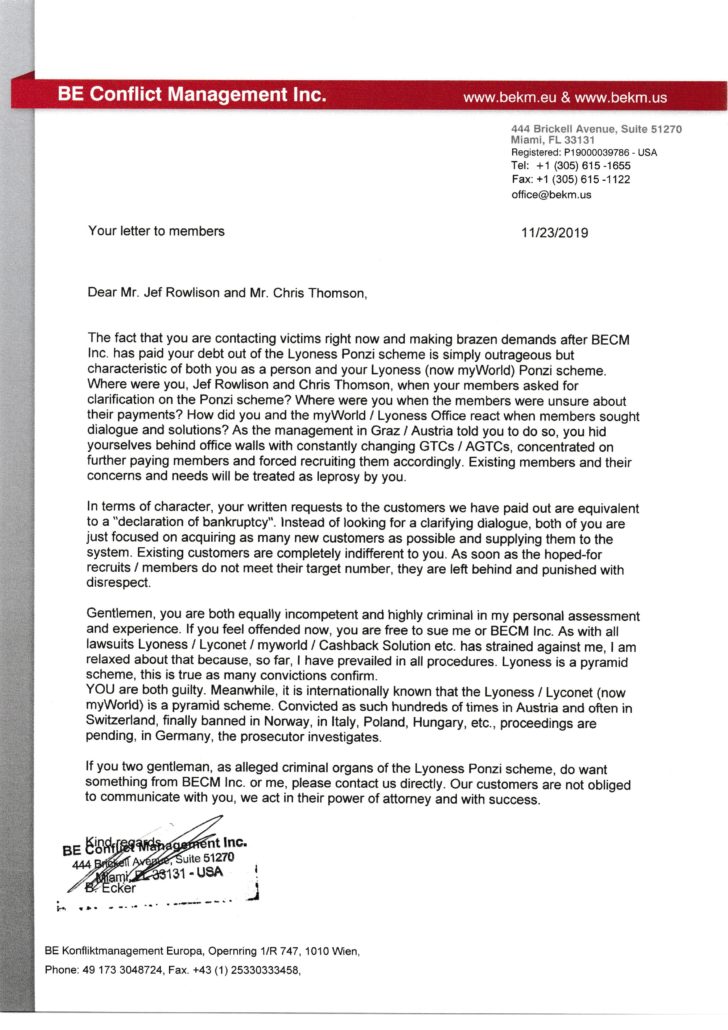 /wp-content/uploads/2015/11/logo-konfliktmanagement.jpg
0
0
Ben Ecker
/wp-content/uploads/2015/11/logo-konfliktmanagement.jpg
Ben Ecker
2019-11-29 09:02:01
2019-11-29 09:02:04
Open Letter to the Lyoness failures Thomson & Rowlison!